L2 monitor stand, suitable for most 17"-32" ultra-wide screens, weighing no more than 8 kg
For those of us who spend a long time in front of a computer screen, we know that comfort is important. The L2 monitor stand is designed to provide a wide range of monitor heights and angles to minimize discomfort and enhance your user experience.
Provides More Desk Space
This arm is simply designed to look modern and clean with by it's minimalistic footprint whilst providing full freedom of space on the table top. The wire clips to conceal wiring, making cable management easier. The desk is totally clutter free and clean.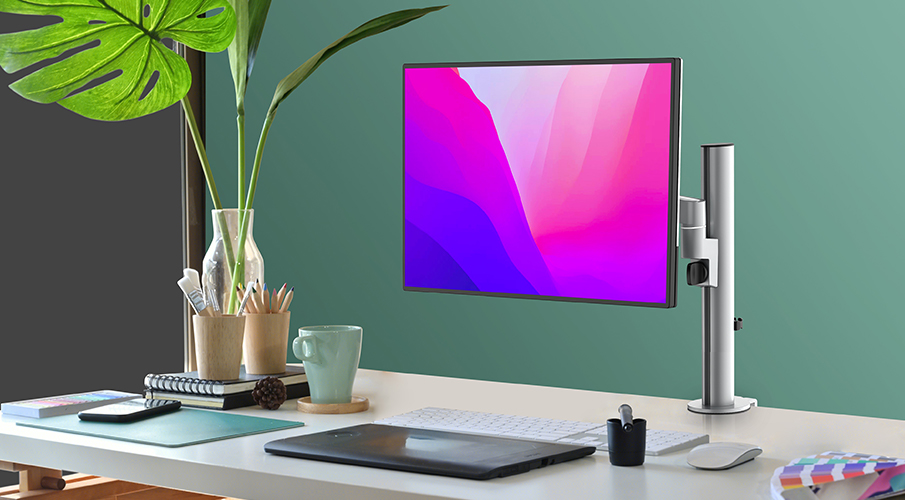 Innovative column chute design, can be installed in both directions. It can be installed in the horizontal direction according to its own needs, with strong load-bearing capacity.
Extremely Sturdy
This computer monitor stands own a solid and sturdy arms, the base of the pole also comes with a Silicone anti-slip to protect your desk.
Cable Management
The screen stand is designed with cable management clips on the arm and along the pillar to route wires for a cleaner, more streamlined look.
Easy to adjust
This vesa bracket is installed on a solid pole, the pole length is 40 cm, so the screen height can be adjusted between 0-35 cm. You can also adjust the distance from the screen to the pole as needed. By adjusting the desktop monitor stand, the horizontal distance of the monitor can be up to 35 cm. The monitor stand has three joints that can rotate ±90°, +90°-45°, and 360°.
2 installation options
A single fully adjustable monitor arm is equipped with a C-clamp and grommet installation kit, you can choose the right one for your desk. Option A: C-shaped clamp (suitable for desktop thickness 1-4.8 cm). Option B: If your desk has holes, you can choose the grommet base (desktop thickness 1-6cm, hole diameter range 1-7cm).