The dynamic DOIT 2
Watch a cooking show or record your own crafting videos. Lift your iPad to eye-level for Zoom calls or give grandma a virtual seat at the party. If you can do it with iPad, you can probably do it better with a height adjustable, multi-position DOIT 2 holding your iPad for you. Level up your iPad game with DOIT 2.
Free your hands. Unleash your creativity.
The cameras on iPads make creating and streaming amazing videos easier than ever. On your next project, use DOIT 2 to securely hold iPad or iPhone to capture the perfect angle. Use the flexible arm stand to hold iPad flat to capture your hands drawing or crafting. Set the stand on a table for a guitar lesson. Clamp DOIT 2 on a workbench to make a "how to" video or set the stand on the floor to capture your TikTok dance moves. Portable, sturdy and stable, DOIT 2 is an outstanding stand for creating your best video content.
Helping hand in the kitchen.
Follow recipes or make cooking videos more easily knowing your iPad is securely held up off the counter instead of leaning against an olive oil bottle. DOIT 2 gives you the freedom to get FaceTime cooking tips from a friend and share a glass of wine for virtual happy hour. We're sure you'll cook up a long list of clever ways to use DOIT 2.
See eye-to-eye on video calls.
Position iPad or iPhone horizontally for Zoom meetings, then spin it vertically for one-on-one FaceTime chats. Along with elevating iPad, this stand boosts your confidence by showing your best angle.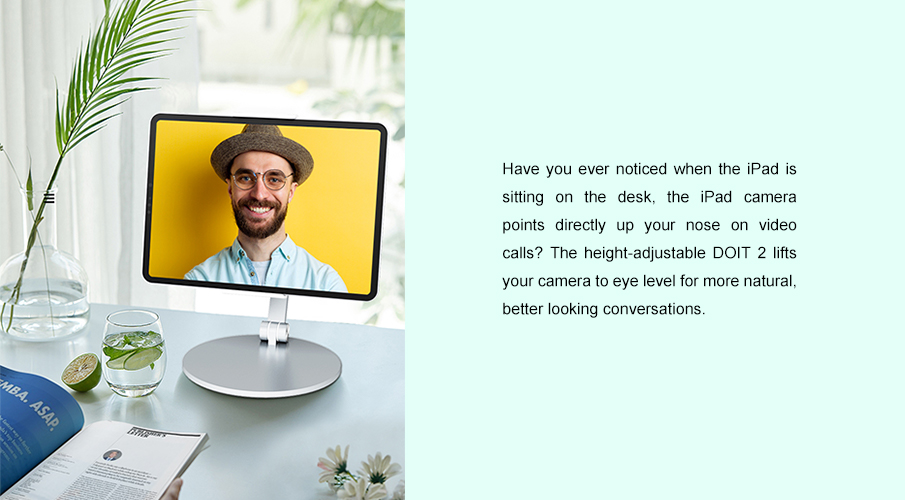 Secondary screen or mini desktop station? Yes.
The adjustability of DOIT 2 means you can position iPad right next to your iMac, external monitor or MacBook to serve as a second or third display. Perfect for using SideCar with MacOS and iPadOS. Or, grab a wireless keyboard and mouse to create a super comfortable mini desktop setup. When it's time to recharge iPad, you can do so without removing it from DOIT 2. 

Ready to unleash the possibilities?
DOIT

2

Specs
What Fits:
iPad Pro (all size & generations)
iPad mini (all generations)

iPhone 13
iPhone 13 Pro
iPhone 13 Pro Max
iPhone 13 Mini
iPhone 12
iPhone 12 Pro
iPhone 12 Pro Max
iPhone 12 Mini
iPhone SE
and all previous generations of iPhone
iPad Clip Maximum Width: 225mm
iPad Clip Minimum Height: 125mm
Fully extended arm length: 385mm